Laptop Battery Analyzer - presented by Direct Charging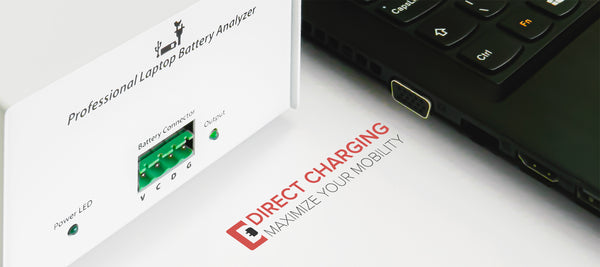 Aren't you tired of your laptop battery acting up all the time? Direct Charging introduces the NLBA1, our third generation Laptop Battery Analyzer which was developed by our team in Romania.
Who benefits from our Laptop Battery Analyzer?
The short answer would be 'anyone'. Our devices work great when it comes to diagnosing, repairing, reviving, charging/discharging, calibrating or measuring the real capacity of virtually all laptop batteries available on the market.
The NLBA1 is controlled by an advanced piece of software (which comes with a comprehensive user manual, both of them available in English). 
Also, when you order this product, not only will you get great help in figuring out what's wrong with your laptop battery, you will also benefit from great customer support (through WhatsApp, mail or Skype) ensured by us, the manufacturer.
Laptop Battery Analyzer - the major benefits
The NLBA1 is capable of reading all the relevant info stored inside the battery controller (even if the device seems completely dead). By doing this, our device can figure out the battery health and measure the real battery capacity.
It is also able to charge and discharge the battery with a lot of custom parameters. Then, by displaying the right voltage for each group of battery cells found inside, it will let you know exactly which are the faulty cells causing your battery to malfunction.
The Laptop Battery Analyzer comes with many options involving calibration or auto-cycling, ensuring accurate displays of the battery status. A special algorithm which we incorporated will allow the NLBA1 to measure the internal cell resistance.
Find out whether your battery is under discharged or not and gain protection against accidental reverse battery connection (basically, all kinds of potential shorts).
User-friendliness
The device comes equipped with a DC Fan and a temperature sensor, allowing it to dissipate up to 50W. The intuitive diagnostic functions will provide you ease of access to Calibration, Output Voltage, DC Fan, Temperature Sensor, Stored Errors and other such helpful settings.
Now that we convinced you of the great number of benefits coming with the NLBA1, we invite you to order one right now.
Article wirtten by Bejereanu Cristian
---
0 comments