How can you charge your laptop with a power bank?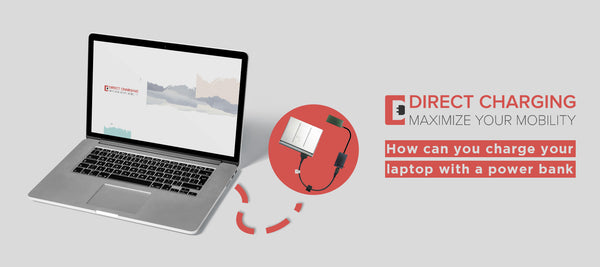 Some information about laptops and power banks
The 21st century is the Information Age, also known as the Computer or Digital Age. The main commodity is information. The role of information as the most valuable resource created an uprising demand for electronic devices. 
Thanks to its portability, efficiency, and convenience, the laptop is one of the most popular electronic devices on the market, with more than 166 million units sold in 2019. 
Can I charge my laptop with a power bank?
The benefits and advantages of a laptop come with a couple of inconveniences, like smaller screens, keyboards, storage capacity and feebleness of the battery. 
Used either as a home work station or as tremendous help while on the way, you will soon realise that your battery needs a recharge. An even more annoying thing is when the battery goes completely dead.
What can you do in this case? You may think of an idea like using a power bank. 
But can a power bank charge your laptop? Short answer - Not really.
Power bank for laptop charging
Not all power banks can charge your laptop, as they don't meet the necessary high voltage output, which is between 17V and 20V. It all depends on your specific requirements.
But don't despair, there are solutions when searching for a power bank for laptop. Luckily, you can address Direct-Charging for the best pieces of advice upon the subject. 
What specifications are the most important when choosing a power bank for your laptop?
When choosing the best power bank for your laptop, you will want it to charge as quickly and efficiently as possible, so that you can get back to work in an instant. 
Wattage (W) is the most reliable component to look at, which shows the exact amount of electrical power needed for the device. 
You need to check so that the wattage of the power bank is as close as possible to the original AC adapter.
As a final thought, when choosing a power bank for charging your laptop, ask for the best advice and recommendations from specialists. Direct-Charging provides you with all the necessary support.
Also, you can check our solutions for charging your battery independently outside your laptop on https://www.direct-charging.com/.
---
0 comments